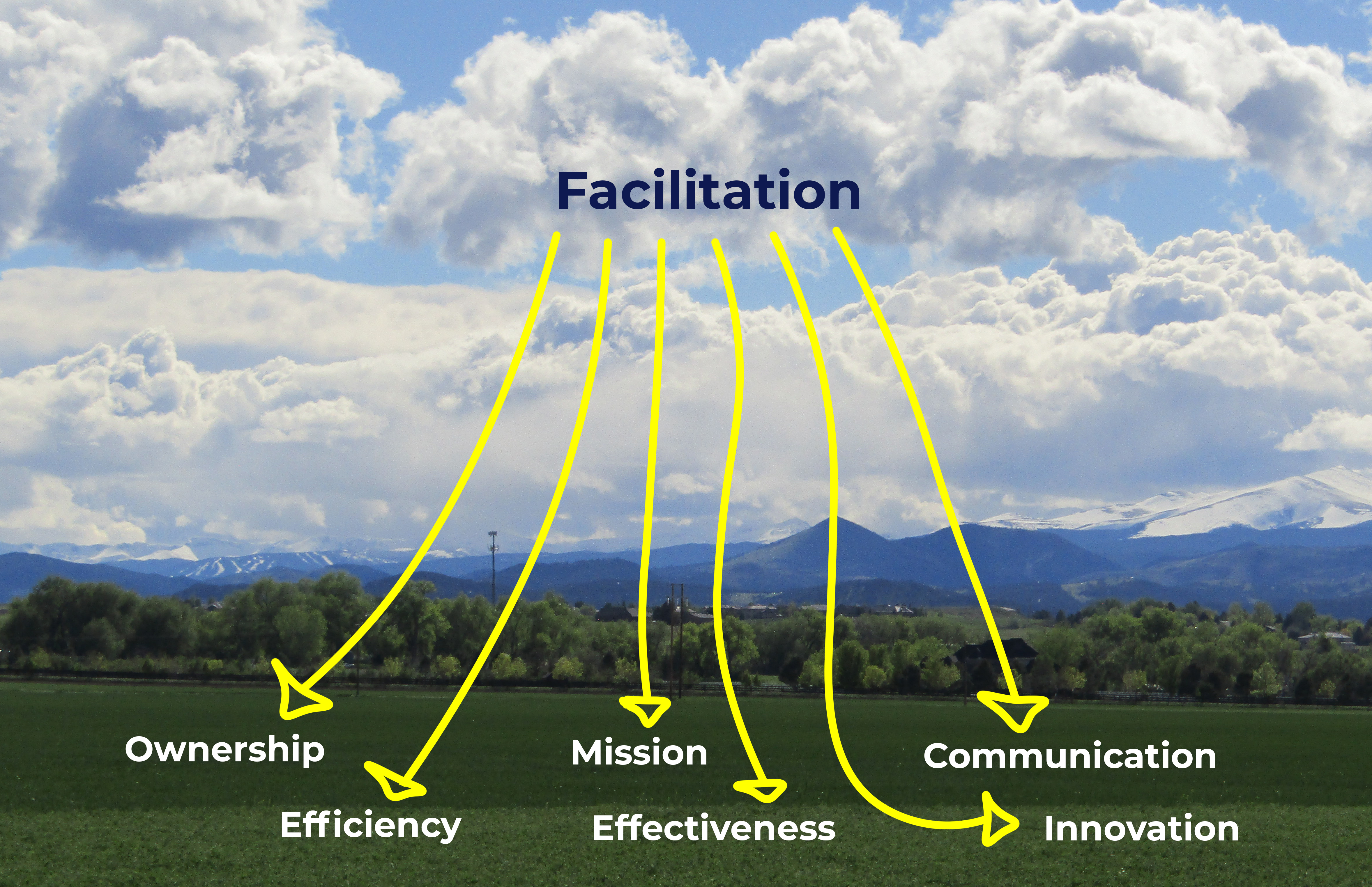 Building stronger teams is a primary focus for many businesses, organizations, and groups. With this broad goal in mind, collective enterprises often set-out to improve certain domains and functions such as communication, innovation, and efficiency. Given factors like technology, the need to develop clear and effective communication channels has never been more critical with respect to strengthening groups. The practice of facilitation works both directly and indirectly to establish such pathways. Facilitation is particularly helpful in that it is flexible and task-oriented. A facilitator can work with businesses and organizations to create a problem-solving environment and strengthen member buy-in. The following writing lays-out some information and reasoning that supports these propositions while discussing key challenges as well.

In general, the term facilitation refers to the process whereby a facilitator assists a group with resolving challenges or improving certain dynamics*. The kinds of hurdles for each group may vary, and consequently, the role of the facilitator as well. For example, a consultant (expertise), coach (development), and leader (values and strategy) are just a few varying roles that a facilitator may employ to help a business, organization, or group accordingly **. An effective facilitator often walks the line between being process-driven and evaluative (problem-solving).

Team building, mission, and buy-in
Facilitation is widely used when an entity's mission lacks support or clarity. The value here is that facilitators can provide assistance with mapping-out a neutral and investigative process for businesses, organizations, or groups. Inquiry on organizational-culture and reviewing decision making processes usually enable facilitators to co-design meetings more appropriately. In general, it helps them to be better prepared and more detail-oriented *. Oftentimes, those conditions are the precursors to creating well-thought-out plans. The practice at-hand may also yield stronger participation via democratic process. As more individuals buy-in, project development and communication tend to strengthen. A challenge that many teams face here is recognizing and utilizing the talents of all members. When looking to effectively maximize and coordinate individual talents, facilitation is a tool worthy of consideration. The process can have a profound impact on engagement. This might be particularly important when the facilitator focuses on finding or fine-tuning a mission in common — in a good deal of cases, increasing buy-in and developing critical goals start with fostering engagement. Further, the practitioner may create meaningful influence through other means. For instance, by demonstrating valuable qualities like flexibility, assertiveness, creativity, humor, thoroughness, and respect *.
Goal setting, problem-solving, creativity, and critical thinking
There are other benefits to opening up the discussion and gaining buy-in. Doing so often helps to promote creative and critical thinking. When it comes to problem-solving, this combination leads to myriad value for teams. Contemporary societal and technological shifts yield circumstances that seemingly favor entities that can communicate, adapt, and innovate. It's no secret that individuals often see problems differently — the question for facilitation becomes, "how can divergences come to be respected and understood, and how can we use diversity in beneficial ways?" Even when they're already written down, key long-term and short-term goals are worth revisiting from time-to-time. Facilitation often reveals dissonance whereby roadblocks or miscommunications can be mitigated. For example, the process of a facilitated group meeting typically targets evaluative assessments not only by the facilitator but also the actual members. This enables genuine awareness, collaboration, and communication to become more accessible and attractive *. Depending on team specifics, effective facilitation may also involve intervening when a process or meeting falls too far off topic. Such efforts help participants bring their attention back to relevant information and issues. Sometimes focus can be enhanced when the right outlook is shared. In my personal experience, team members are typically more interactive and productive when small wins are highlighted — this may add to the building of constructive dialogue and consensus on significant matters.
Future outlook (optimism and challenges)
Facilitation is something that many businesses, organizations, and groups can benefit from. A facilitator may refresh perspectives and get people thinking critically and creatively — members often seem to be more content in those cases. Sometimes ideas stall, coordination is lacking, or the culture itself comes in question — facilitation can be a highly-effective tool that works to bring clarity and cohesion in such circumstances. Concerning the functionality of teams, there is a dire need to think about how to bridge the gaps between individualism, technology, and values. These factors can be the culprits of unorganized decision-making and miscommunications. In response, the practice of facilitation urges teams to get back to the roots of communication and problem-solving. Other roadblocks such as avoidance can make that task a difficult one. To that end, an effective facilitator remains committed to guiding as needed and to adjust to the collective and individual needs of teams. In other words, the practitioner's key role is to be a facilitator of clear democratic process. When that standard is upheld, challenges can be highlighted in an ethical manner and trust established. The rest is left up to the participants — the sky's the limit from there.
CJ Clayton Jr.
07/29/2019
Resources:

International Association of Facilitators. 2015. "Statement of Values and Code of Ethics." IAF Professional Development. Accessed March 26, 2018. https://www.iaf-world.org/site/professional/iaf-code-of-ethics
* Kelsey, Dee, and Pam Plumb. 2004. Great Meetings! Great Results: A Practical Guide for Facilitating Successful, Productive Meetings. Portland: Great Meetings! Inc.
**Schwarz, Roger. 2002. The Skilled Facilitator. San Francisco: Josey Bass